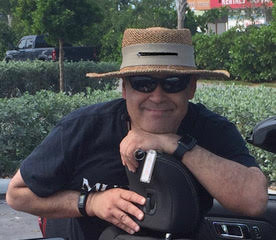 I am happily married and have one wonderful child. For most of my adult life I have been an information technology professional, endurance athlete and musician. My wife and I have shared many adventures such as living overseas, seeing the pyramids in Egypt, the Parthenon in Greece and coliseum in Rome. We have been scuba diving, completed marathons and triathlons. It has taken an incredible amount of hard work, self-sacrifice, and education and yes God's grace to have been able to experience all that I have been blessed to experience. My wife and I both worked incredibly hard to achieve a little bit of the American dream.
When our daughter was born we were both looking forward to being able to provide our daughter the very best we could. Almost 7 years ago, our lives changed forever when I was laid off from work and became extremely depressed. I closed myself off from my family and friends; and fell into an unhealthy cycle of abusing adult pornography from an unsecure Peer-to-Peer network. My carelessness resulted in under-age pornography being discovered on my computer. I was arrested, convicted and now I am on the Sex Offender Registry. In an instance, everything I had accomplished, all the years of study and hard work, all the dreams I had were swiftly taken away. I was filled with a sense of hopelessness. I had let my family, my friends and my community down. I could not forgive myself. I did not see any reason to live. I made a decision that I would commit suicide. Then everyone could go on as if I had never existed.
One day a therapist I had been seeing said something that completely changed my outlook. The therapist said maybe I thought I was a burden to my daughter now but if I committed suicide, my daughter would blame herself. This blame would haunt my daughter and negatively impact her life forever. Full stop! I decided in that very moment that suicide was no longer an option and each day I would make it a point to stay alive.
This new sense of purpose did not suddenly make all the negative consequences go away. I have been unemployed for 2 years. It has been easy to get job offers; in fact I have been offered 13 positions in 18 months. But each offer was rescinded when I disclosed my background. This lack of steady income has placed an incredible strain on our lives.
Some neighbors don't let their children interact with our daughter. She is too young to understand why her friends can't come over. We can't explain why her father is never at any of her school events and never volunteers. Why her father, who plays 4 musical instruments, can't play at church. These are discussions that one-day we will have with our child. We want to tell her first before she finds out from strangers.
I have many things to be thankful for in my life. I have an intelligent, beautiful, curious, child. A child that gets angry with me when I ask her about homework and enjoys my sense of humor. I also have a wonderful spouse who has been willing to give me a second chance and every day brings new ideas and suggestions on how to move forward. I also have family that has not abandoned me. I have a sister who was there during some of my lowest moments. I have a mother and a father who never stopped believing in me and through example have shown me the power of faith. I have my music, a garden, and somewhere that I can call home. I have been blessed in many ways that others in my situation have not.
Recently, after years of hiding and not going out except to run errands, help my family, and work, I have taken the next step. I have started to take part in volunteer work and be an active advocate to push reform for current laws that directly impact my family and so many others in similar situations. I realized that I have to "be the change that I want to see in this world."