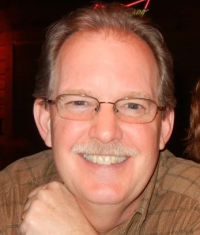 Today I'm a pastor running a community safe residential re-entry program for sex offenders. We have grown from a fledgling pioneer in sex offender re-entry to a well-respected organization recognized as experts in sex offender residential re-entry. By God's grace, none of our graduates have ever been accused of a new sexual offense. The privilege of serving the communities at large, these men, their families and victims as an ambassador for Christ continues to be an honor beyond words.
Things didn't look this way for me 25 years ago. I had violated another human being and dishonored myself. I had allowed bottomless darkness to control my life and the lives of others. And then, somehow, a gift of grace opened a door leading out of that darkness and into the light.
This year has marked the 25th anniversary of my opening the gift of desperation and discovering that I could choose to change. New hope and relief over whelmed me when I heard that I'd made bad choices and could learn to make right choices in life and love — that the cancer that I had allowed to defile my character could be treated and contained. I saw that, in time, with radical honesty and hard work (and it was), my faculties could be renewed and restored. I would no longer need to be a slave to destructive behaviors. The Truth would and has set me free.
Equipped with tools from secular sex offender treatment and two years of Bible school, I established a new life with hope of a future. I believed then, as I do now, that children need the positive influence of both of their parents in their life. Reconciliation with my natural daughter (non-victim) was my goal. It fueled my fight to regain the ability to influence her life as only a father can. Despite restrictions imposed by the Court and meted out by Supervision, I pursued reconciliation. I kept at it. My posture to the Court was that if they were mandating treatment then they needed to validate treatment.
I'm proud to say that, while still under Supervision, I appeared Pro Se three times progressively asking the Court to restore my social rights and my relational rights with my daughter. Each time I received a measure of grace. First, the Court approved an Affidavit I crafted to disclose to families in our church my past choices, conviction and present status. Supervision told each family they'd be crazy to sign off on taking responsibility for their children's well-being in my presence. Despite this warning, they all chose to believe in the ability for hearts and minds to be changed. The next two advances were related to restoring my positive influence in my little girl's life. Rather than waiting to finish Treatment and Supervision and hoping for the best, I pursued the Court to be more responsible by utilizing the safety net of Treatment and Supervision in this process. Eventually, while still under Supervision, I regained the joy of unsupervised contact with my daughter. While walking out of the court room that day my PO told me I needed to go out and buy a lottery ticket. No need, I had won one of the most valuable prizes; restoration with my daughter. That was quite a day for me. I think I heard the angels singing.
But my heart broke for men who were serving a life sentence on revolving charges. I had been incarcerated for only a short time. But these guys clearly didn't have much hope for change. There were no resources available as an alternative to returning to their old stomping grounds and familiar follies.
I wanted to help these men by providing re-entry housing. Fortunately as it turned out (given my own realities), the door was closed to helping the masses at that time. Instead I was led into mentoring men in groups and individually. Building on this experience over the years, I was eventually led to Texas where I was now ready to develop this community residential re-entry program for sex offenders. Serving these men in the midst of a society determined to make things as difficult as possible for them – and often for me – gives me a real sense of satisfaction and appreciation of the importance of second chances. I've learned that no matter how desperate things feel, we have the power to choose to set things right. And that knowledge has been a great gift.