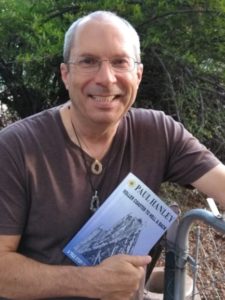 In 1994, I pleaded guilty to a sex offense and have lived on the registry ever since. But my life's mission now is preventing and healing sexual abuse. To fight abuse, I published my memoir "Roller Coaster to Hell and Back: A True Story of Sexual Abuse and New Hope." In the book, I describe my recovery from the long-term sexual abuse I suffered as a child, and my rehabilitation after my crime.
I've talked in front of other survivors and people who've committed sex offenses, so they don't repeat the mistakes I did. Arizona's Department of Corrections recently let me talk to inmates at one of their prison Fearless meetings in a segregated yard.
My life has taught me the importance of seeing past the shame that plagues both survivors and people who've committed sex offenses. One of the most difficult barriers created for me by the registry has been the shaming—which only worsened the "I'm less-than" feelings from my own childhood abuse. (I, like many survivors, felt responsible for what happened to me.) The worst part was that many people figured if I was ashamed, I must have done something wrong. So they treated me poorly. Shame is a vicious circle.
My childhood dream was a career in writing. Now that I've worked through most of my shame, I work for myself as an author and as an editor who helps people on all sides of sexual abuse write and publish their stories. The successes of the authors I've met give me hope that one day people on the registry will have a major voice.
I'm no hero, but I've done my share to give back. For five years I volunteered at a literacy center helping adult immigrants learn English and pass the US citizenship test. I told the literacy center about my crime right up front. They respected that. Secrecy is behind all kinds of problems, so now that I'm not abusing or being abused, I don't hide in the shadows any longer.
Just as for registrants, integration into society is difficult for immigrants. I was able to apply what I've learned as a registrant to helping my students. We would spend a lot of time on American relationship skills—I've found that integration into society, whether for a former offender or an immigrant, is all about developing relationships—with apartment managers, employers, the police, family, neighbors, cashiers …
Another area I've helped my community is when I taught tai chi to senior citizens for four years.
Before I committed my offense, I served twelve years in the Arizona Army National Guard. I earned several letters of commendation. Learning to take responsibility for my actions has helped me succeed on the registry. For example, I never used my childhood abuse as an excuse for my crime, even though my childhood set me up to fail. I believe men who commit sex offenses are more likely to have been sexually abused themselves than men who have not committed a sex offense. I hope my work will help these "invisible survivors," as I call us. I want to prevent abuse, not just heal it after the fact. Most survivors of abuse, however, would never dream of harming someone the way they were harmed. So it's important to me not to play the victim. Taking ownership of my past has earned me respect from many in my community.
Many therapists and other "experts" claim that "sex offenders cannot be cured." But whatever other factors come into play, I feel that abuse is ultimately caused by a choice—so choosing not to commit crimes is as good as a cure. I'm making healthier choices now. I've gone 25 years without even a traffic ticket.
I'm super grateful for all the people who have believed in me; they helped me believe in myself. I'm not proud of my crime, but I've done my time, and I'm making my life a living amends. I have nothing to be ashamed of. All it has really taken is regularly looking for my goodness in the mirror. From there to demonstrating goodness is just a hop, a skip, and a jump.