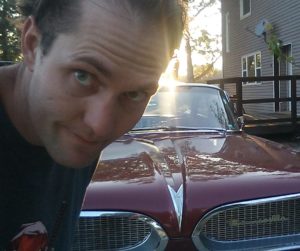 I am 35. At 23 I took a plea deal and was given a suspended sentence, spent 1.5 years in jail and then began probation. The first hurdle was making sure my son could live with me as his mother had issues of her own to deal with, and could not keep him. I successfully completed the ISP probation, and began regular probation in May of 2008. In November of 2009 this was revoked due to substance abuse.
After my revocation sentence expired, I moved back in with my parents, and began again. I went back to cooking, but saw that my past mistakes had a lot to do with the lifestyle of cooking, so I made a career switch in 2013.
My mother had worked as a hostess at a steakhouse, and they needed a maintenance person so I applied. This helped me build on my existing carpentry knowledge. I worked at the steakhouse until 2015. Doing this helped me build the confidence I needed to run a construction job. I met a local businessman and was hired to renovate an old theater. The theater was built in the late 1920s and had tested positive for asbestos materials. My employer sent me for asbestos training. With that training I was able to build our company into a demolition focused endeavor.
My now wife was chef at the steakhouse at the time I began working there. She thought I was stupid. But in 2014 we married and bought a small house together for herself, my son, and her daughter. In 2015 we brought her mother home, and cared for her till her death. After her mother passed, we purchased an old RV from a neighbor, and had a rather fun adventure. My son is active in our church youth group, and has interest in engineering. The daughter would visit for the summer. She likes to go "mudding," rides horses, and hangs out with her friends.
In 2017 we discovered that Arizona, where her daughter resides, requires that you inform if a sex offender may have access to the child. The man who believes he is the father sued her, and she was forced to move back to Arizona. My wife's lawyer has reviewed the requirement, and I have read AZ statute 25-403.05 and it violates peoples 5th amendment rights plain and simple.
As someone who was homeschooled, I naively believed that the investigators, judges, and court system uphold the Constitution of the US, and are there to make sure that the laws of the state are in alignment with the US constitution, and that truth and justice are their guiding principle. This belief has since been trashed.
My proudest accomplishment is my marriage to the love of my life. Despite our current ordeal, we are still together.